An innovative digital-led retail outlet has been launched in central London. The Cornershop has been designed as a place for shoppers to get hands-on with the latest technologies that reimagine the shopping experience. That experience covers food, drink, cosmetics and fashion. Consumers will be able to purchase items from the store as well.
The cornershop was formed as a partnership between Capgemini Invent, part of the Capgemini Group. In addition to SharpEnd, the connected experience platform, and media platform The Drum.
New options to engage
The venture was inspired by the traditional British 'corner shop'. This new approach will support retailers and brands understand how digital innovation can enable new ways to evolve the customer experience. In addition to improve in-store operations and enable consumers to rediscover the joy of in-person retail.
The cornershop has created exciting new options to engage and shop. CornerShop is split into four sections, each exploring fundamental aspects of the shopping experience. The automated store, the augmented store, the purposeful store and the personalised store.
The store combines real-life products, the latest technologies and personalised experiences. Everything on display has been curated based on insights gathered from global research and data analysis. This has been supplemented with Capgemini's real-world expertise from addressing the challenges faced by clients and their customers every day.
Technology concepts innovation
CornerShop will evolve and introduce more innovative technology concepts to suit the evolving needs of retailers and brands. The shop will also allow visitors to interact with the different technologies and purchase products from various brands, once the store can welcome visitors in the future.
According to Steve Hewett, Head of Retail Customer Experience at Capgemini Invent, "The long-term impact of the pandemic on retail stores is yet to fully reveal itself. 2020 has radically escalated retailers needs to redefine the purpose and experience of the store. Furthermore, its connection to the ever changing digital ecosystem that customers engage and shop within. This means it's never been more critical to build the digital capabilities required to underpin a new shopping reality.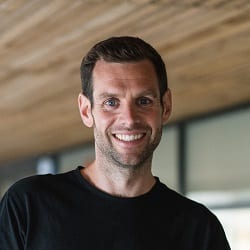 "CornerShop provides a glimpse at what retail of tomorrow can be. It was specially designed to bring to life the most innovative technologies. Moreover, how they can blend the physical and digital to create a seamless, differentiated in-store experience."
Rob Hollands, Managing Director at SharpEnd adds, "Consumer shopping behaviours continues to change and accelerate. Brands must find new ways to connect, deliver relevant and engaging experiences and drive loyalty. We have created an environment that allows brands and retailers to explore technologies that provide the most engaging customer experience.
"In addition to the option to shop and interact in the way that best suits individual needs. CornerShop aims to help brands and retailers drive their transformation further and faster, explore the latest technologies. To rapidly test and learn with real consumers, in the real world."
A mobile as remote control
As soon as a visitor enters the store, their mobile phone becomes the retail experience remote control. It leads them through the space, allowing them to engage with the new shopping concepts and experiences on offer. It also provides insights on the technologies harnessed. This includes Machine Learning (ML), Augmented Reality (AR), computer vision and Light Detection and Ranging (LIDAR) and Photogrammetry. Some of the shopping experiences currently testing in-store are:
Providing personalised experience
Customers are greeted with a personalised experience when they enter the store. This is courtesty of the store's Bluetooth-based location technologies. Customers can also customise the physical space to their preference of artwork displayed on walls. In-store screens would greet customers using their name and virtual avatars.
Virtual Try-On
This solution uses augmented reality to allow customers to 'try on' clothes. Without the need to physically change into the items. When an item is hung up on the virtual try-on display, computer vision and RFID identify the product. Convert it into a digital image and map it to the consumer on a full-length smart mirror.
Purposeful shopping guidance
This uses a combination of the CornerShop mobile app, connected packaging, AR and digital screens. Customers can share their individual needs, preferences, intolerances and sustainability goals. The store uses the information to guide customers towards the right products that meet their goals. This is achieved through wayfinding, intelligent filtering and relevant product recommendations and insights.
Social distance automation
Cameras and computer vision will measure social distancing in store and ensure regulations, helping store staff manage customer safety.
Sentient store
CornerShop enables customers to retain control of data with strong data governance, security and integration to a central data platform. This is combined with sensor tracking technologies, such as beacons, Near Field Communications (NFC) and camera analytics. As a result, the store experience is tailored to customers and to generate actionable insights on customers in store behaviour. This insight is anonymously accessible for everyone in the store, to learn what the store learns.
Nearly everyone loves coffee. Adding to the retail experience, CornerShop will also house a fully contactless barista experience, serving fresh coffee and self-serve snacks. The store plans inspiring content for visitors to engage with.
Enterprise Times: What this means for business?
The UK high street was in crisis for a number of years. COVID-19 has only exasperated that crisis with its unplanned lockdowns, social distancing requirements and accelerated the trend toward digital shopping. It was therefore really interesting to preview the opening of CornerShop. A retail innovation store of tomorrow. The store is entirely experimental and explores the transformation of shopping and customer engagement in the 'new normal.' It is a seriously bold move to showcase new experiences, industry innovations and pioneering technologies that may help retailers survive and thrive in the future. However, the concern is how many retailers will be around in the future, to participate in that brave new world.