[ad_1]

What is Leeds RAG?
Leeds RAG is the official fundraising society of the Leeds University Union and their purpose is to hold various events and fundraisers to raise money for different charities whilst creating awareness for the many causes. They are student-led and their events range from independent ones to some in collaboration with other societies to gain a larger reach. Since 2012, they have raised a colossal amount of over £1 million for charities which is definitely an achievement they should be pleased with. Each year they hold a fashion show to raise money for different charities; this year the two charities were Stop Hate UK and the Racial Justice Network.
A rundown of the fashion show 
I had the absolute pleasure of attending their most recent fashion show, "Leeds RAG Fashion Show", held last Friday, 25th February. It was a night I will never forget – it was sustainable, inspiring and was filled with an immense amount of talent and sheer commitment to which anyone would take their hats off to. 
The show this year was called 'Ignite' and sought to empower, inspire and educate, Their aim was to represent fashion as a source for social change. The show began with a section called "Core Values 1", which was kicked off with a speech by a woman over a video that I found enormously empowering. She spoke about her struggles as a black woman and just a woman in general and the discussion of this subject evoked an inspiring mood within the room that consequently created just the right vibe for the models' walk.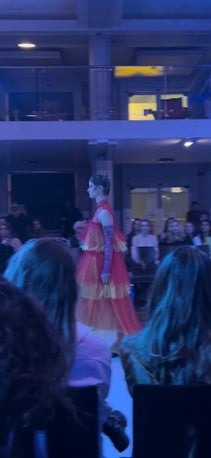 For this first section, the models walked to a highly vibrant and upbeat song which well reflected the pieces in this section. The clothes began with fiery tones of red and orange and were very eye-catching. The tone then slowly developed into different shades of purple. All the models looked absolutely beautiful and had makeup and accessories to complement their outfits. Their looks undoubtedly added a high brow element to the fashion show, so props to the makeup artists of the show!
This part of the show laid a strong foundation for the rest of the show for it was very inclusive and didn't portray the stereotypical male/female clothing styles. After each model had walked individually, they then all walked together as a team and this gave the audience an opportunity to witness how incredibly well-put the collection was. Moreover, the team element shown here was empowering too.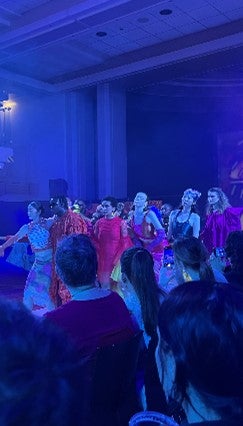 The second part of the show was called "Core Values 2" which again began with a speech by the same woman but this time; her speech focused more on her successes as opposed to struggles – she explained how she was proud to be a woman and wouldn't wish for anything else. Her speech ended with a strongly inspiring line – "I believe in you all". 
The collection for the second part leaned more towards tones of green which then developed into purple, and I felt this created a sense of innocence, especially as a video of a young lady wandering around in a forest was played in the background. In this part of the show, the models first walked in pairs to show how well the outfits complemented each other before making their individual walks.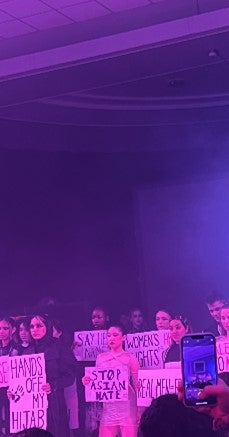 The show then proceeded to a section called 'Educate' which revolved around the subject of making the voices of those prejudiced heard as well as spreading significant messages of campaigns like 'Black Lives Matter' and 'Stop Asian Hate'. These messages were the main highlight of this section and they were depicted through only black and white clothing. Each model had a different way of holding the sign with the message on (for instance, some shouted the message whilst some waved the sign in the air). This part of the show was definitely a crowd favourite for it amplified strong political messages and really highlighted the purpose of the charities represented by the show.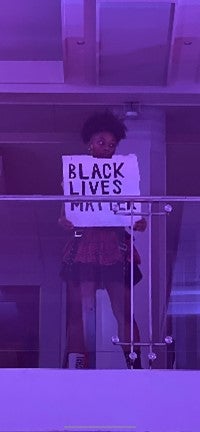 After a short intermission, the show resumed with a beautiful contemporary dance which gave the show an entertaining edge. The clothes in this section began with a more muted palette of red. This was followed by a collection called 'Empower' which exhibited a presentation that certainly lived up to its name. Then, a rap performance by a talented duo followed while the models continued walking down the catwalk.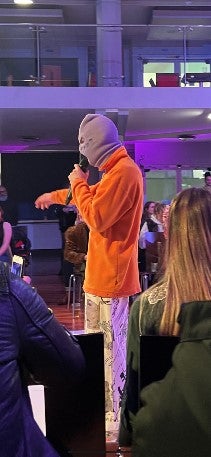 This brought on a very joyful and upbeat atmosphere and went very well with the vibrant clothes in this scene. The night came to an end with the finale which was kicked off with three drag queens putting up a lip-sync performance to a song called 'Fashionista' and I found this to be one of the most enjoyable moments of the show.
We were then asked to turn our phone flashlight on to join in with the last part. With this, all the models walked out and did one last celebratory walk of the catwalk to a song titled 'Streatham' by Dave which is about his rough upbringing and the story of how he came up in the world. Once the show ended, there were speeches from both charities and the directors about the success of the show and they expressed gratitude to everyone that attended.
My favourite looks of the show 
This show demonstrated inclusivity in the form of fashion and was truly an eye-opener to the extremely diverse and evolving world of fashion. That being said, it is difficult to choose my favourite looks from the show but I have managed to narrow it down to three. First off, my favourite was a jumper in the 'Core Values 2' scene – it had a beige base and was lined with pink piping. The design on the jumper was of a cartoon girl surrounded by hearts and flowers. This was my favourite because I felt like it represented a kid-like approach to fashion which could be interpreted as a reminder to not worry too much about life whilst also giving everyone a blast from the past. 
My second favourite was a huge puffer coat which was quite possibly the biggest coat I have ever seen in my life. It was a plain white coat that was used as a blank canvas, covered with small pieces of black and red art that looked as if they exploded all over it. This for me was the opposite of the jumper for it was both complicated and exciting; I felt that you could stare at the coat for an hour and still not see everything.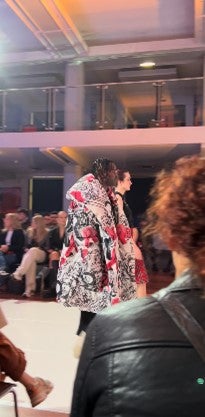 My final favourite was a pink blazer and trousers look. The top blazer was cropped and had huge cutouts on the sleeves which gave the usually sophisticated blazer look a different spin by making it sexy and somewhat casual. The trousers were fairly formal and large but they were made unique with the addition of a belt. The belt was a long piece of almost transparent ribbon that was tied into a large bow at the back and flowed behind the model as she walked. Despite having favourite looks, these are just my personal preferences and I must say that each and every look that was modelled during the night was exceptional and remarkable. Here's a massive well done to the designers!
More on the charities represented by the show:
The show was held to raise money for two charities that are very relevant to the current times. The first charity is called Stop Hate UK which is based in Leeds and is dedicated towards promoting anti-hate and anti-discrimination. They operate the UK's only 24-hour anti-hate crime reporting service. This charity was launched in 2006 after the Stephen Lawrence inquiry in 1999. The charity speaks to people from all walks of life and attempts to understand and condone the awful and unfair things that they face. 
The second charity is also based in Leeds and is called the Racial Justice Network and this charity works with individuals to proactively promote racial justice through working closely with organisations, activists and campaigns. They also provide bespoke training to institutions on issues surrounding race. Both of these charities uphold great causes and are truly very inspirational.
As of right now, the fashion show has raised a remarkable amount of over £20000 for these charities and I am definitely happy that I was able to take part in such an amazing cause. If you are interested in supporting these charities, you can donate to both charities on the Leeds RAG Fashion Show website and get involved by researching each charity and doing what you can to participate in any way you wish. 
To conclude, the fashion show for me was a night I will never forget for it was tremendously influential and educational, to fashion lovers and beginners alike. The fashion show not only allowed people who love fashion to indulge in their passion but also gave a great chance to models, designers, stylists, makeup artists and everyone else who was involved in the wonderful show to exhibit their talents and abilities in a creative and fun manner. Overall, the Leeds RAG Fashion Show was very successful for the charities as well as the society and I am definitely looking forward to attending the event next year. 
Words by: Hayley Seagrave
Edited by: Harsheni Maniarasan


[ad_2]

Source link