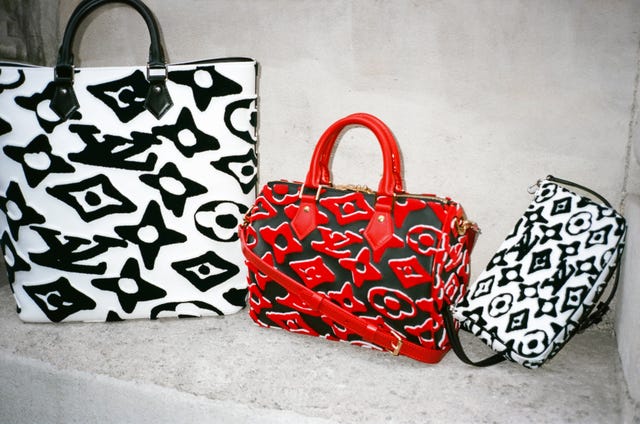 Courtesy of Louis Vuitton
With each new year comes an aura of possibility and reinvention. That spirit is at the very heart of the new Louis Vuitton x Urs Fischer collection, which fittingly launched on New Year's Day. The capsule's launch marries the Swiss contemporary artist's vision with Louis Vuitton's iconic monogram logo for an entirely new look.
Fischer is one of the only designers who has been permitted to alter the Maison's pattern since its debut. His signature creative flourishes can be seen in leather accessories, ready-to-wear apparel, shoes, and seven special-edition bags—a Keepall, Cabas, Onthego, two Neverfulls, Speedys, Pochettes Accessoires, and a hard-sided beauty case. The collection is available in two color combinations, black and red or black and white. It features hand-sketched versions of the Louis Vuitton initials and flowers, which Fischer calls "memory sketches."
When asked about his approach to the capsule collection, Fischer spoke about his mind-bending inspiration. "It's like asking different people to draw a map of the world from memory, then observing the different ways people interpret it," he told ELLE.com in a statement. "This idea of distortion through memory is fascinating to me and I felt it was a good way to create a new layer of mythology around the Louis Vuitton Monogram."
This is Fischer's second collaboration with the fashion house, following 2019's Artycapucines bag, a limited-edition art-piece where he designed hyper-realistic, hand-painted silicone pieces of fruit and vegetables to hang from the brand's iconic Capucines satchel. For his latest Louis Vuitton output, Fischer is assisting with inventive window displays, store installations, and campaign imagery, even a a high-concept, as well as a partially animated film, which you can watch here.
The Louis Vuitton x Urs Fischer 2021 collection is available in stores and online now.
This content is created and maintained by a third party, and imported onto this page to help users provide their email addresses. You may be able to find more information about this and similar content at piano.io